Restaurant marketing expert Clive Morley from Foodshot has revealed some astonishing results from an SMS campaign he ran with Sydney restaurant Long Chim.
Famous for serving traditional dishes from Thailand, Long Chim (which means come and try) is by chef David Thompson. Pre COVID-19, the restaurant did not offer take away so when restrictions were put in place, Long Chim was forced into 1 of 2 options; temporary closure or immediate innovation – Long Chim went with the latter.
A takeaway menu that you can (almost) taste through the screen was the first operational move. Then to sell it. Long Chim had cleverly connected their booking system (Now Book It) and guest WiFi to TalkBox 12 months prior, equipping them with a substantial contact list in which they could promote the new menu to.
Email proved to be a success, links to order online with pick up and delivery options brought in steady trade but was in no way comparable to the bustling 'booked outs' dinner shifts they were used to. Until they tried SMS.
Clive found that SMS was a fantastic way to reach customers on the database who weren't responsive to emails. "Industry standards on email open rates are around 20% – so what about the much larger group of customers who don't open the emails but may still be very responsive to marketing?"
"In the case of Long Chim, we found that sending the SMS had a 400% higher engagement rate than email, not to mention close to 100% delivery rate. Some marketers feel that texts can be a little intrusive, but the data is compelling. The SMS campaign for Long Chim brought in over 150 covers within 24 hours with a tracked ROI of 900%." – Clive Morley
Below is an example of an SMS designed to drive sales; it includes the special on offer as well as a link to the menu.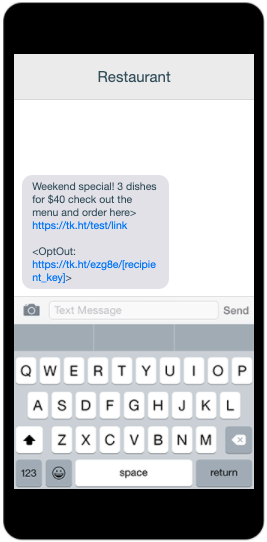 While some people will opt-out, that's ok. Not everyone wants to be contacted by SMS so allowing people to opt-out filters out the people who may find it intrusive. The result is a contact list of highly engaged and receptive customers who are willing to spend with you – not surprising as, after all, they were your customers to begin with.
For more information about how to send an SMS read the article here or get in touch with impact data at hello@impactdata.com.au