Great news, your QikServe Insights are activated. It's time to get more orders, more often – without lifting a finger.
This series of communications has been created after analysing over 650,000 communications to see what offers and timings work best.
We are here to help; if you have any questions, contact us at Support@qikserve.com
Behaviour-based messages
The messages are triggered by a missed visit, period of absence or any date or spend threshold connected to their profile.
1. The Welcome email – Sent after a customer visits you for the first time
Did you know that up to 80% of your customers will only ever visit once? You are about to change that stat!
You are now sending every new customer a welcome message. This is the easiest and most effective way to get a second visit.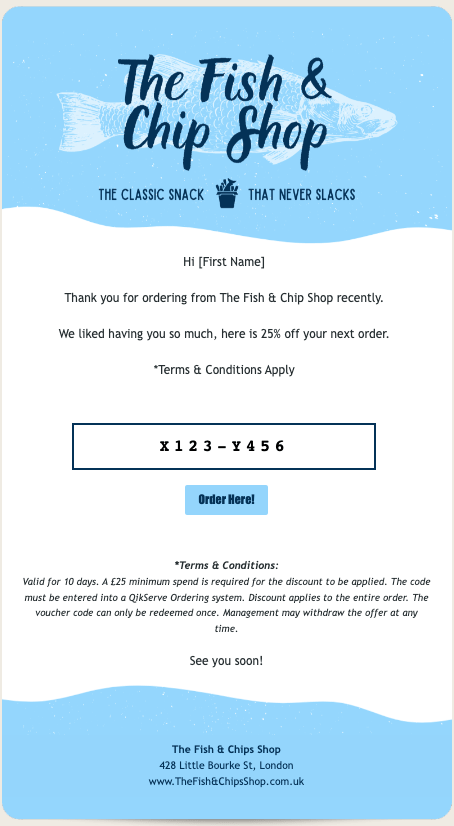 2. Customer Retention messages x 2
What's the easiest way to get a customer to come back? Just ask them!

You now have our series of messages that will be sent to a new customer IF they don't return after their first visit. This message series is sent 14 and 30 days after their first visit, where there is no second visit recorded.
After their second order, they are on their way to becoming a loyal regular customer.
Retention message 1
Sent 14 days after the first visit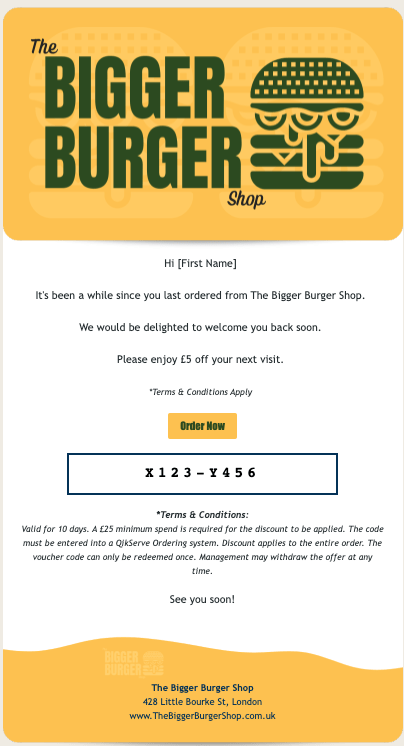 Retention message 2
Sent 30 days after the first visit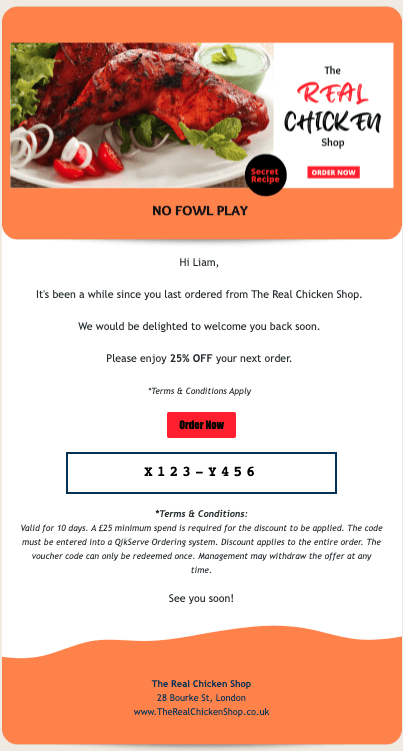 3. Celebrate me – at 6 months and 12 months
Everyone likes to be celebrated on their birthday, but if you haven't collected 'Date of birth,' that can be a bit tricky.

The 'Celebrate Me' communication is designed to delight your customers six months and again at twelve months after the date they first ordered from you. This is a great way to surprise your regular customers or connect with the ones you haven't seen in a while.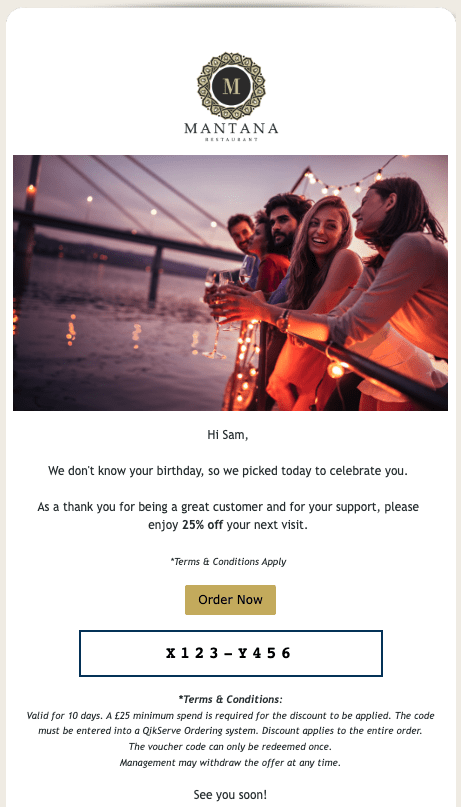 4. Existing customer retention messages x 2
Did you know that acquiring a new customer can cost five times more than retaining an existing customer?
You now have a series of messages set up to retain your existing customers automatically! This series of messages is sent 5 and 20 days after your customer's Expected Next Visit Date.

The 'Expected Next Visit Date' is unique to every customer and calculated after three visits.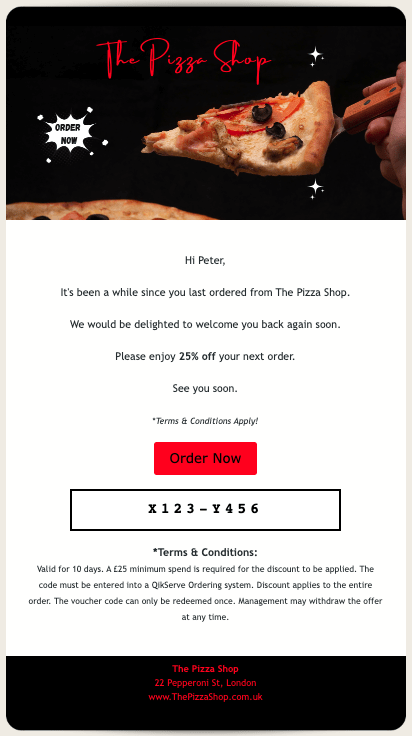 5. Almost reached a loyalty reward message
Sometimes your customers may need a reminder of the reward that is ahead of them.

This message is sent to your customers when they are one visit away from their next reward and helps get them back, quickly!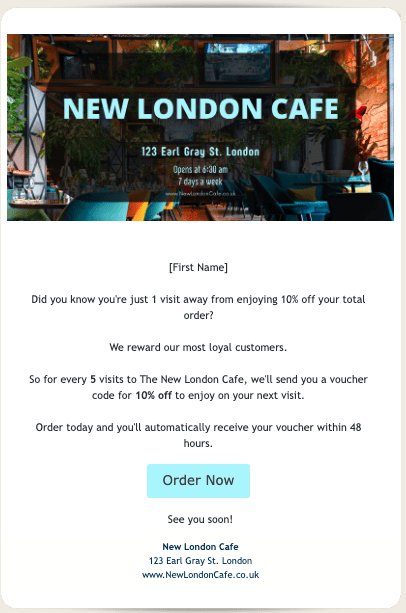 6. Lapsed Customer Offer
Re-engaging with customers who haven't visited you in a significant period of time can provide real value to your business.
These customers are already familiar with your business, and a little reminder about your great range of meals is the easiest way to get the to order again from you.
This message targets customers who haven't visited in 60 days and works to recover lapsed customers.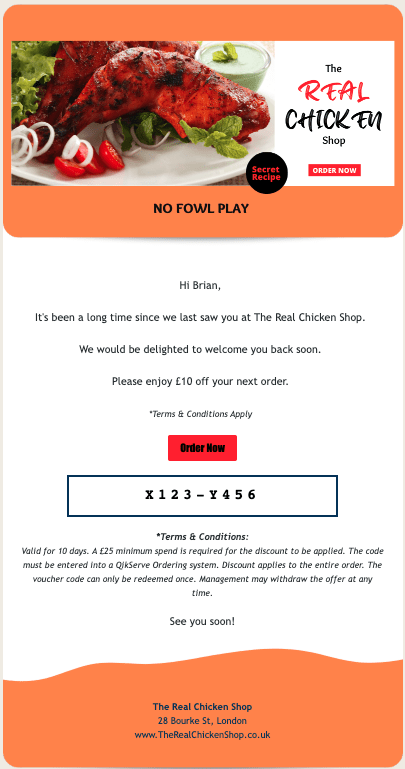 7. Loyalty reward at 5th and 10th visits
Rewarding your customers for loyalty is the best way to keep them coming back.

On every 5th and 10th visit, your customers will be delighted when they receive a message with an offer that acknowledges and rewards their loyalty.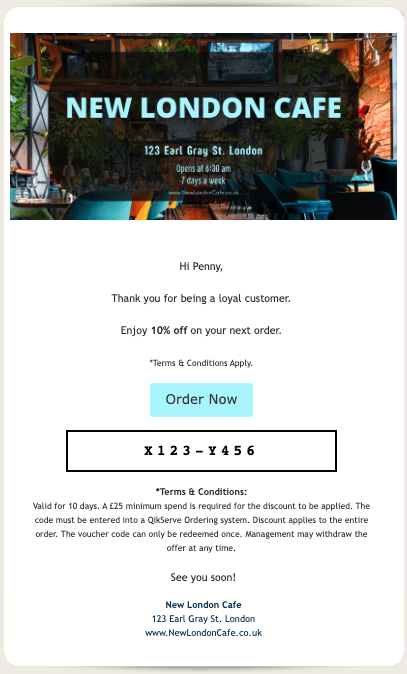 8. Voucher Reminders
Create a sense of urgency with automated voucher reminders.
If your customer has a valid voucher that has not been redeemed, they will receive a message two days before that voucher is set to expire.
This is the best way to ensure all your marketing efforts are being maximised and your customers keep coming back.
Event-based communications
Our Seasonal Event Campaigns target your whole audience for key
occasions such as Christmas, School Holidays and Halloween.